In 2020, I found wild Giant Water Bug in several places, but where can I find the habitat of Giant Water Bug in Japan, and can even an amateur find them?The scientific name for the Japanese Giant Water Bug is Kirkaldyia deyrolli.
The Giant Water Bug is an interesting species in captivity, but I wanted to find one in the wild, learn about its actual habitat, and maybe even take some ecological photos!
I was in a hurry and couldn't get a good shot, but I was happy to find a Giant Water Bug and see it preying on a frog.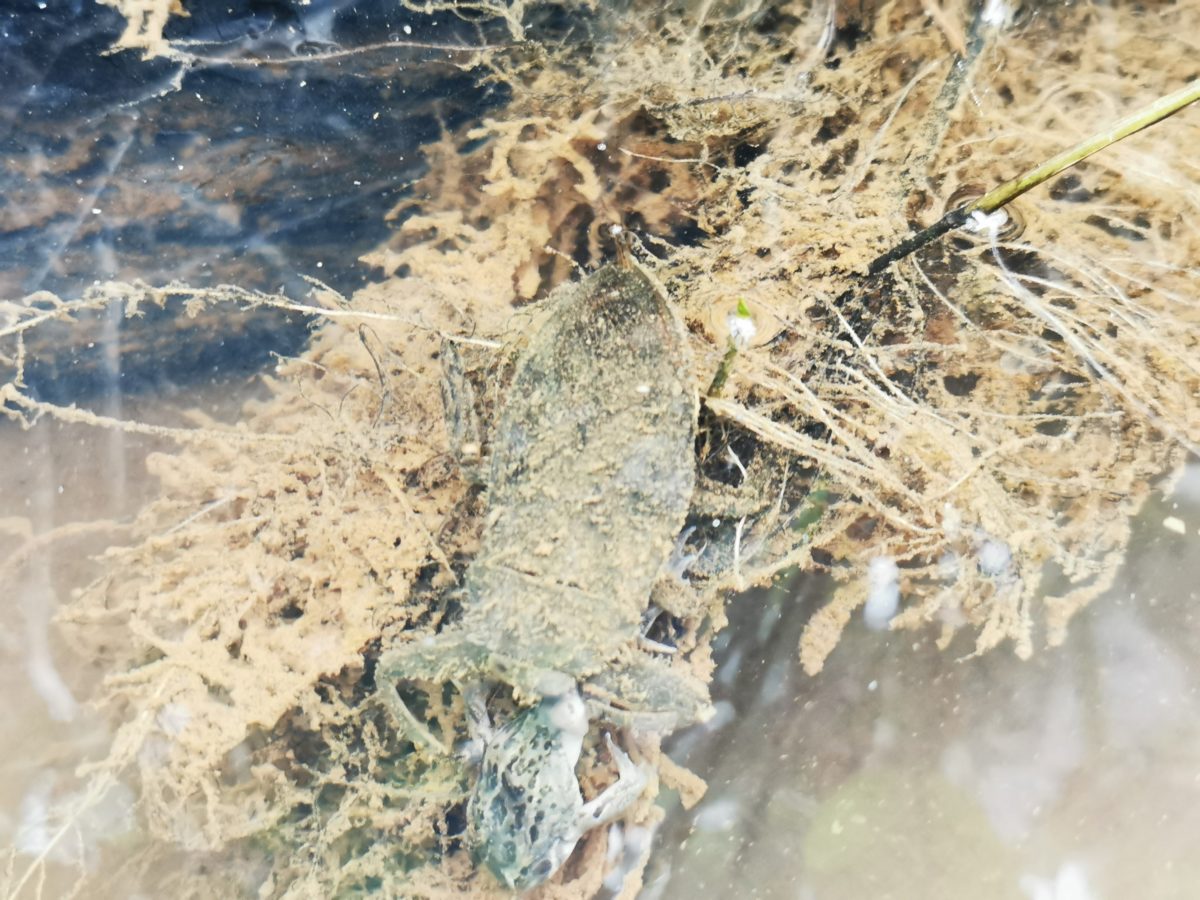 The Giant Water Bug from Japan became a protected species in 2020, but it is not subject to regulation for individuals to raise it as a hobby.
Expedition to Giant Water Bug's habitat
I have never thought of a collecting expedition because I don't have a driver's license. It would be too difficult to go to a distant wetland by train with a large luggage.
In 2020, a friend of mine invited me to go collecting, and I went looking for Giant Water Bug several times.
As a result, I found a Giant Water Bug on the second trip, and on the third trip, I asked my wife to drive us to a different location and found a Giant Water Bug.
Therefore, the level of difficulty in collecting Giant Water Bug in the Kanto region of Japan is such that a knowledgeable person can find it even if they start from scratch.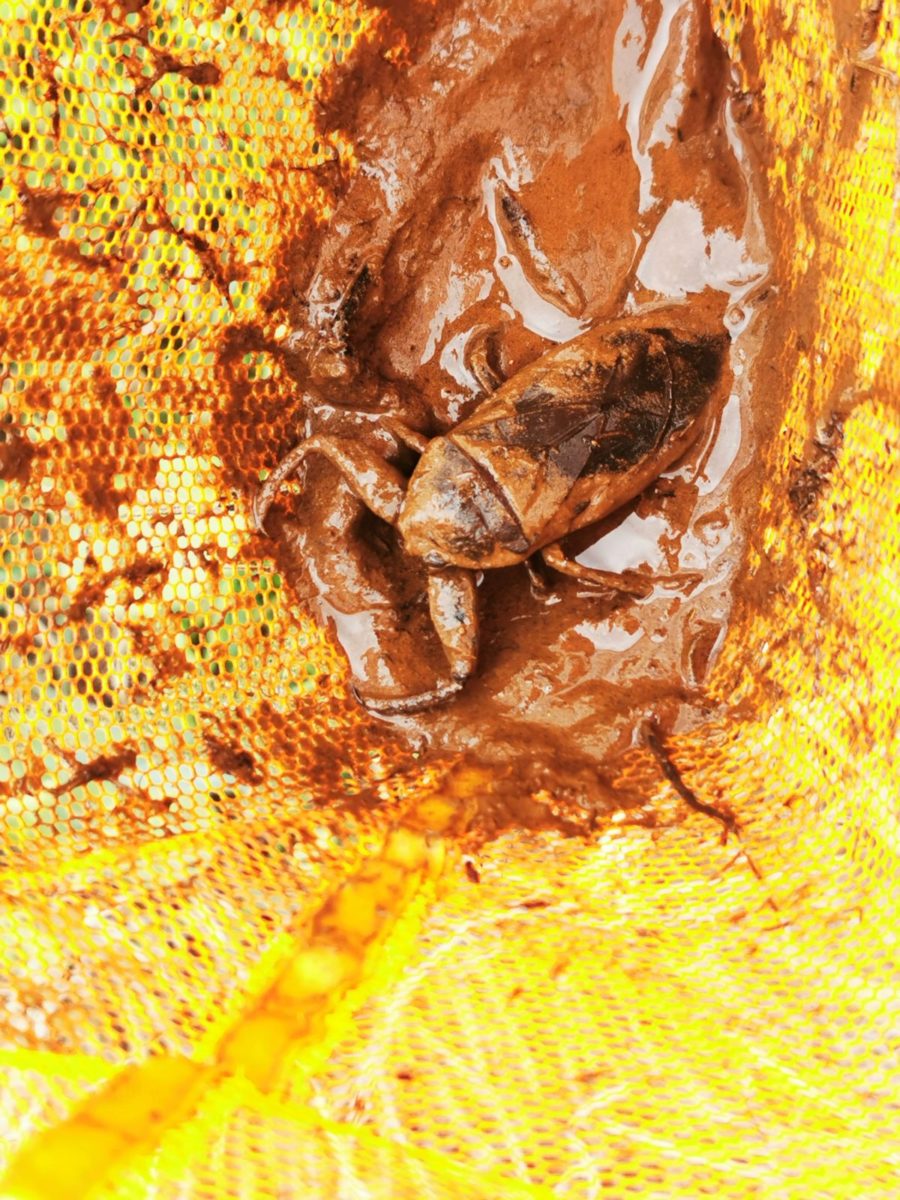 Aquatic Insects in the Year 2020
Looking for the Giant Water Bug resulted in finding other aquatic insects as well. Here are a few photos.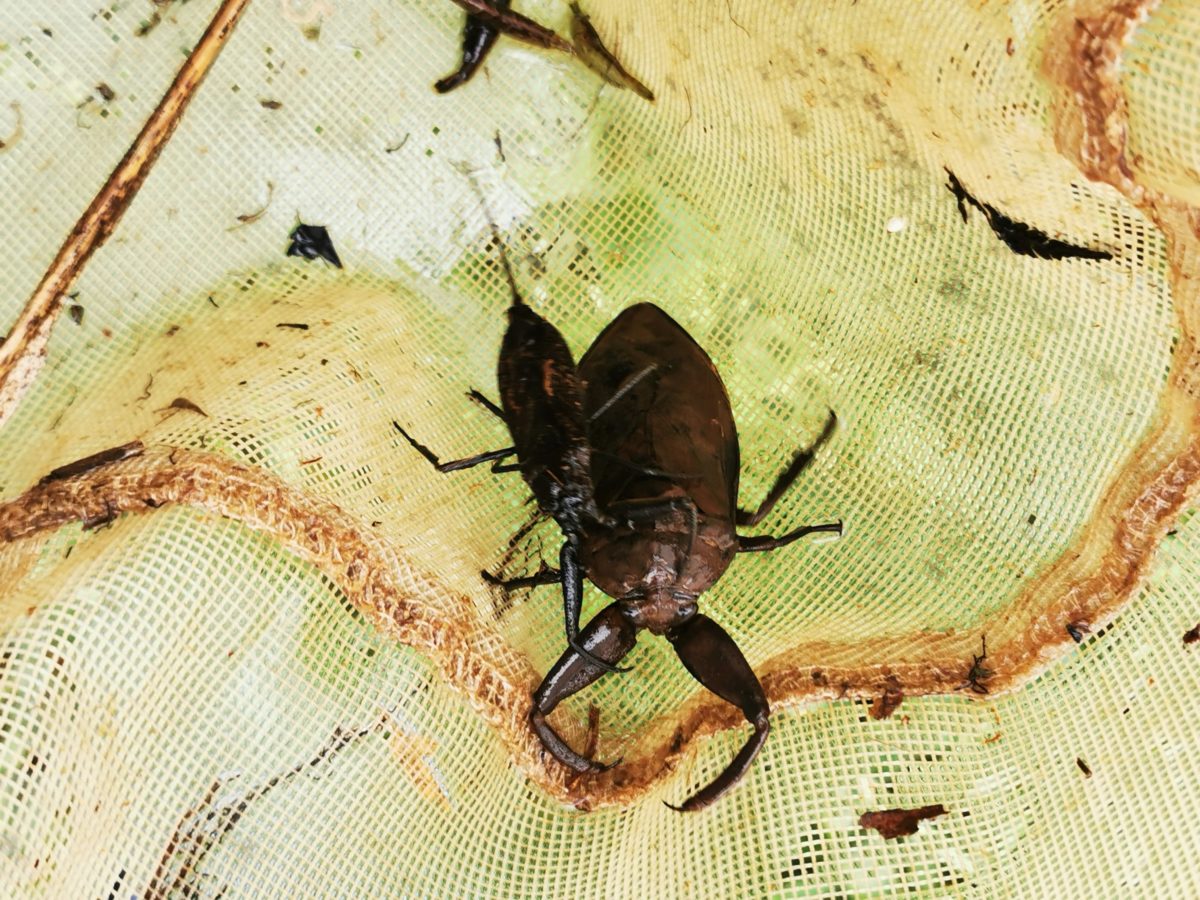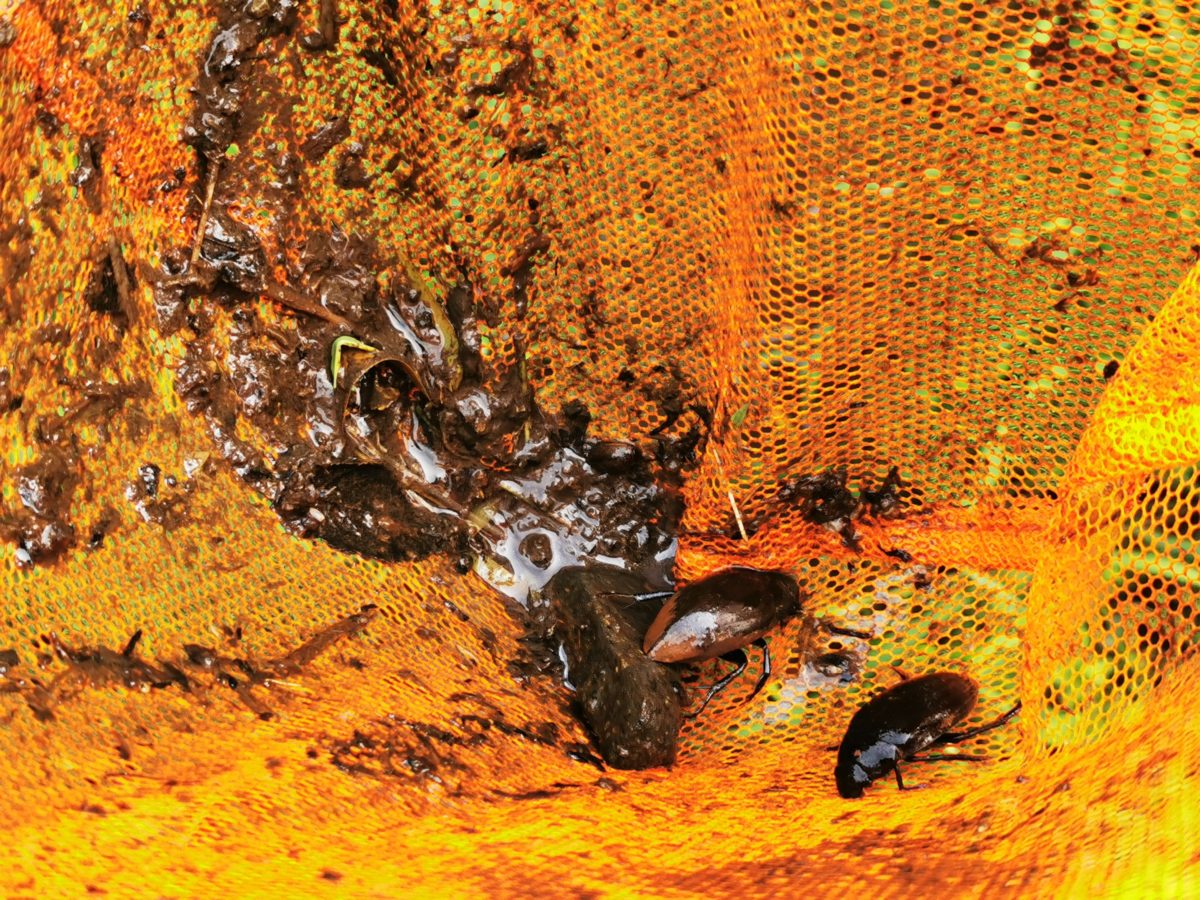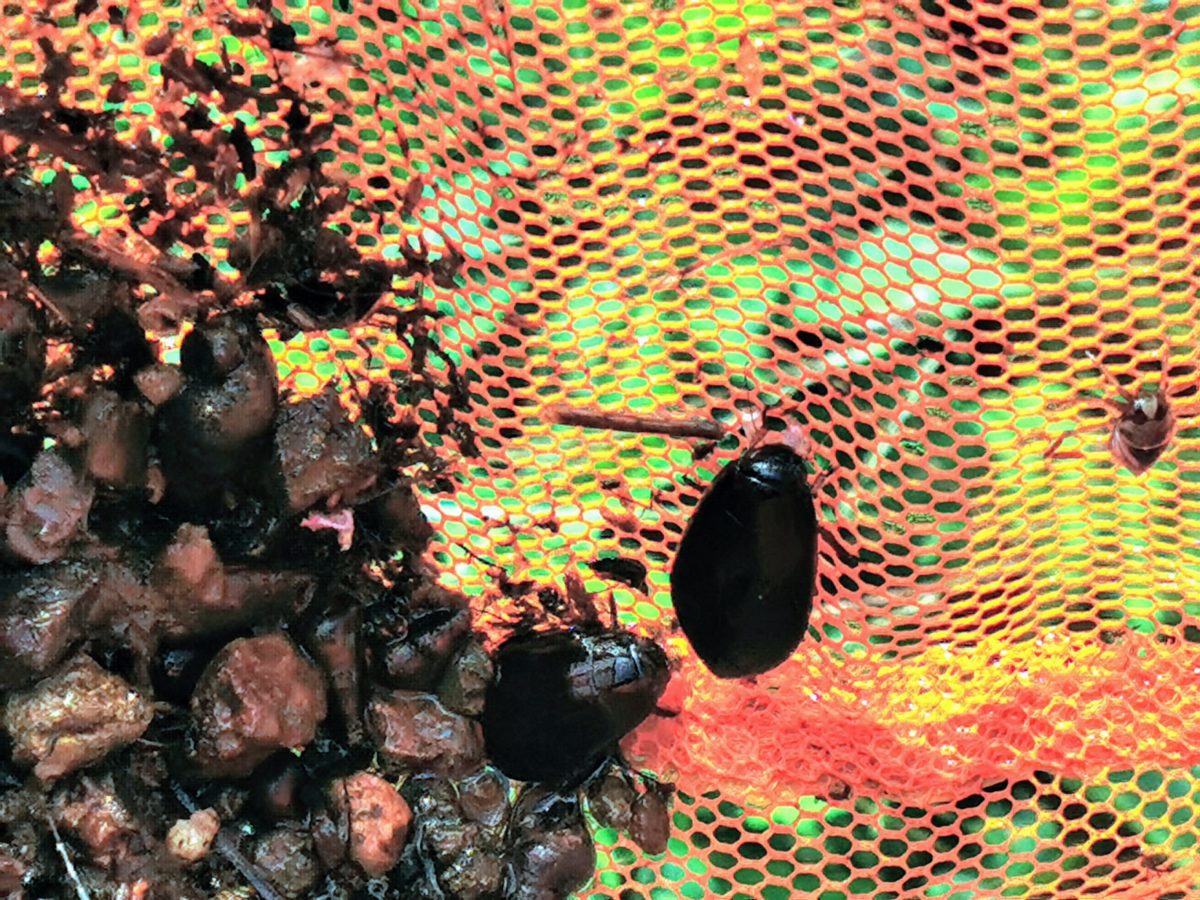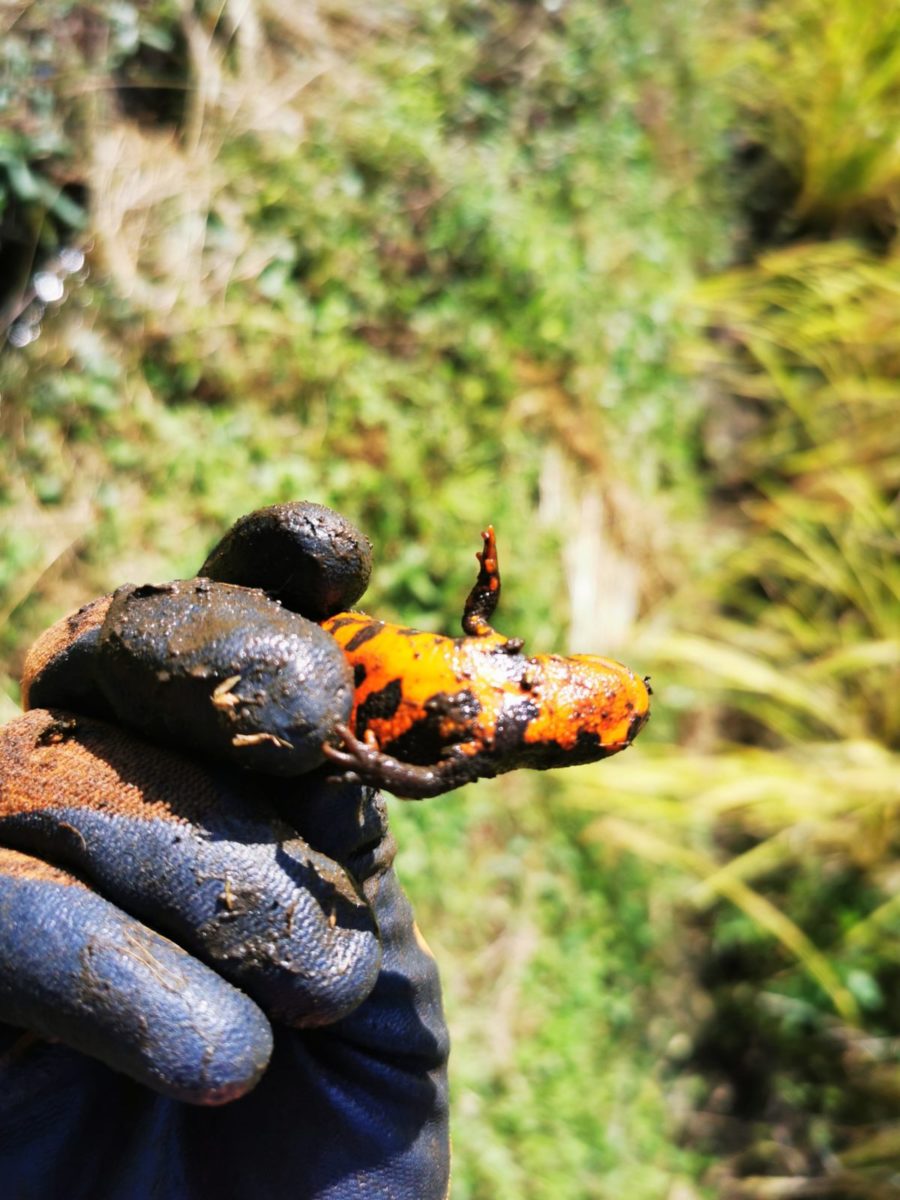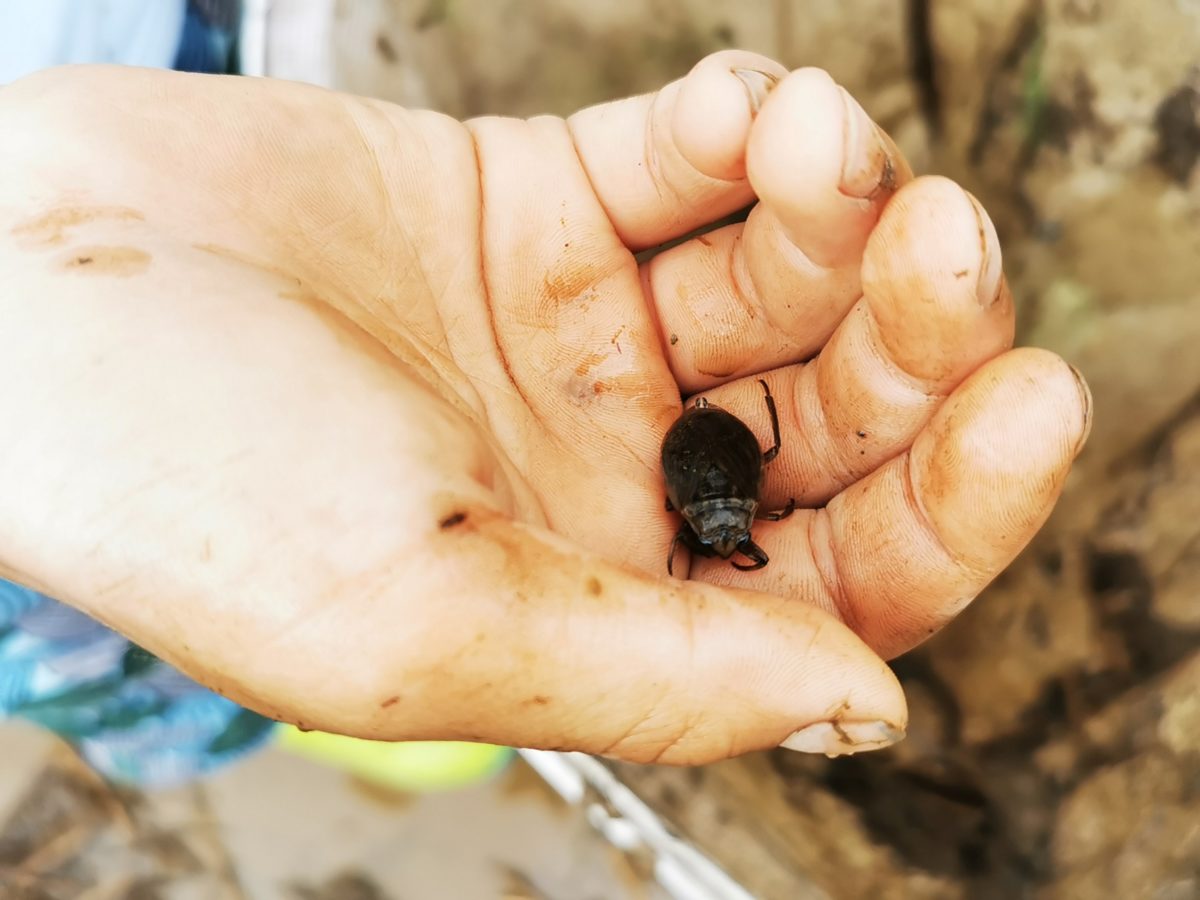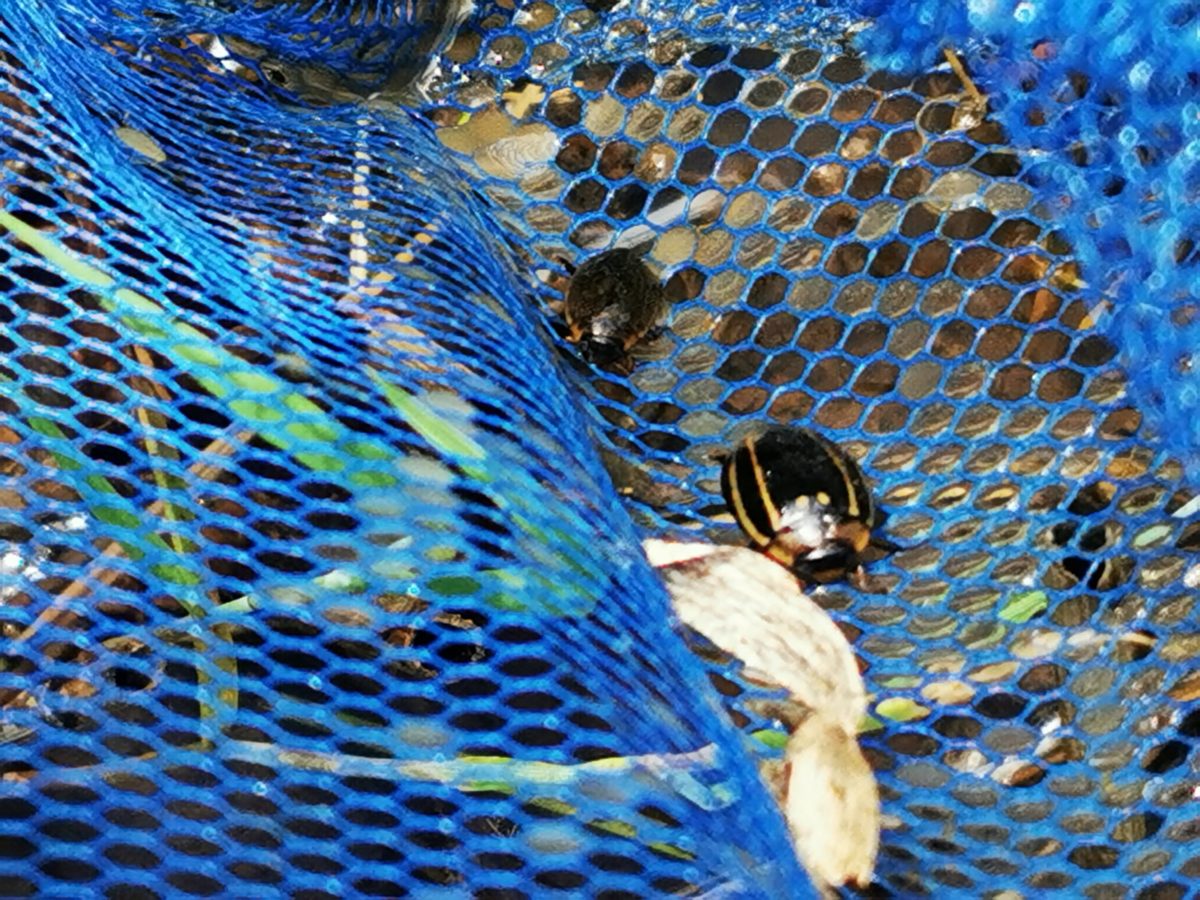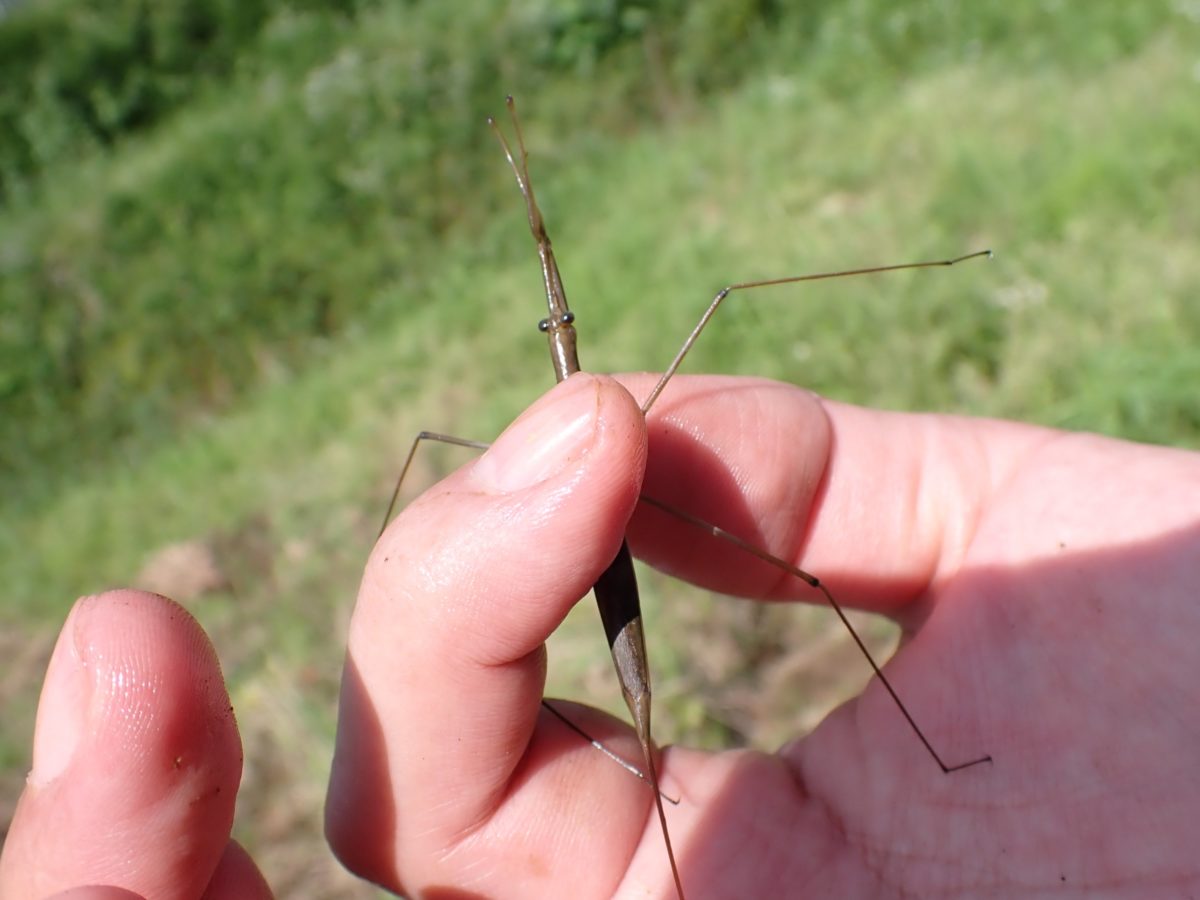 An approach to finding a habitat for Giant Water Bug
If you were trying to find the habitat of the Giant Water Bug from scratch, what would be the best way to do it?
Ask someone to pinpoint the Giant Water Bug's habitat
The easiest way is to ask someone to pinpoint the habitat of the Giant Water Bug. However, this is not interesting because it is a matter of course that wherever they are, they are.
I have had people tell me where to find Giant Water Bug, but it is important to have the experience of finding the habitat of Giant Water Bug by yourself based on a hypothesis.
Narrow down the approximate habitat area from past records.
If I were to be too specific, it would identify the habitat, so I will be blunt. For example, if I write about XX prefecture, it is too wide and I can't consider the habitat. If it's not in your hometown, you will have to narrow it down to the city level because of the travel time to get there.
From past records and information about seeing Giant Water Bugs on Twitter, we can usually tell which areas have been confirmed to be inhabited by them even in the recent past.
For example, the Giant Water Bug is widespread and thinly distributed in the northern Kanto region of Japan. They fly several kilometers during the breeding season, so there is no reason to go there just because you happen to find one in the city.
What should I do to narrow down a few more candidates?
Consider the habitat requirements of the Giant Water Bug.
If we work backwards from the causes of the Giant Water Bug's decline, we can see where they are still breeding today.
The Giant Water Bug is the apex of the ecosystem and is extremely vulnerable to pesticides. Therefore, a place where aquatic insects, which are in the lower part of the ecosystem, are also abundant and free from pesticides is a good candidate.
Specifically, the place where the pesticides of the fields flow downstream and crayfish and bullfrogs have invaded and become dead colored water without water plants is unlikely.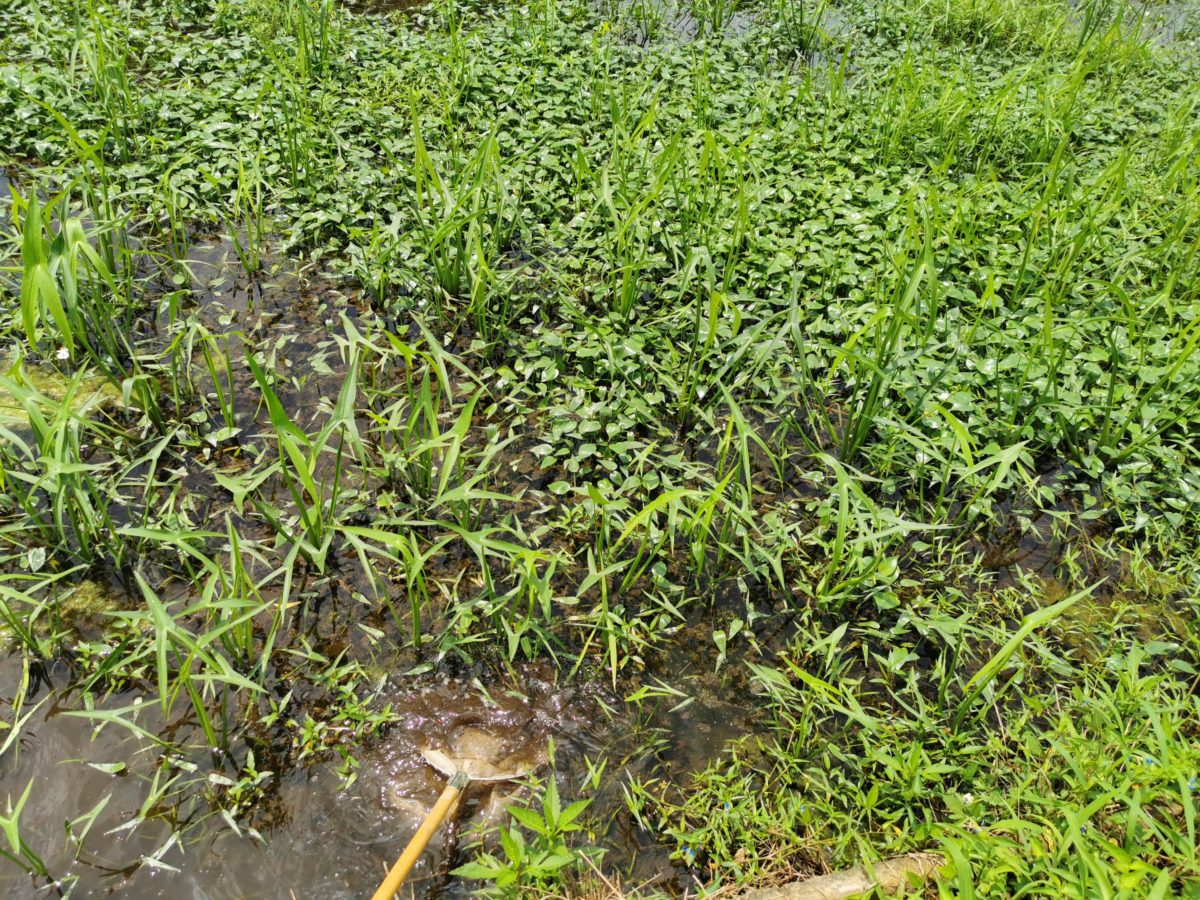 If there are enough small shrimps, loaches, or some aquatic insects in the net each time, the expectation of finding a Giant Water Bug will increase.
On the other hand, if the net is filled with crayfish every time, or if we hear the croaking of bullfrogs, we will sigh and retreat.
In terms of probability, Giant Water Bug is not found in fast flowing or deep water, because its larvae are not very good swimmers.
Giant Water Bugs are more likely to be found in waterways next to rice fields and unbanked waterways up to 20cm deep. Concrete waterway with fast flowing water are unlikely to have Giant Water Bugs, and even if there are Giant Water Bugs, it is probably just a coincidence that they have been swept away.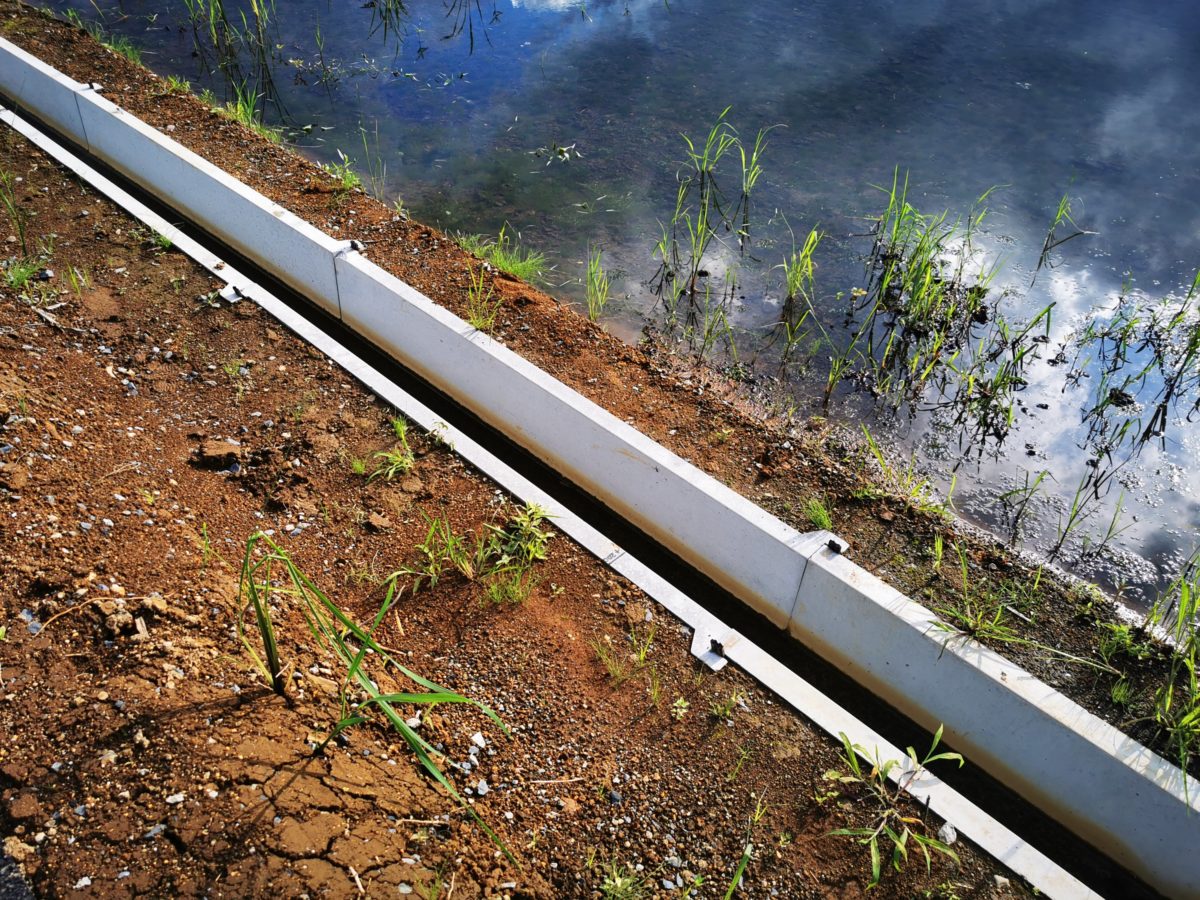 TThe photo shows a place where there is supposed to be a nice waterway, but it has just been renovated. There were still some small Water Beetles swimming around in the surrounding puddles, so the Giant Water Bug was unlikely.
What is "Yatsuda"? Rice paddies in the valley.
There is a topography called "Yatsuda" as a habitat for Giant Water Bug that meet these conditions. Yatsuda is a paddy field environment using "Yato".
Yato is a valley-like topography formed by the erosion of hills. Both sides are hilly, and rice fields spread between them, and there are reservoirs and thin water flows upstream.
Although the impact of pesticides is limited in such topography, it is difficult to modernize, it is easy to become fallow fields or abandoned, and it is easy to become land.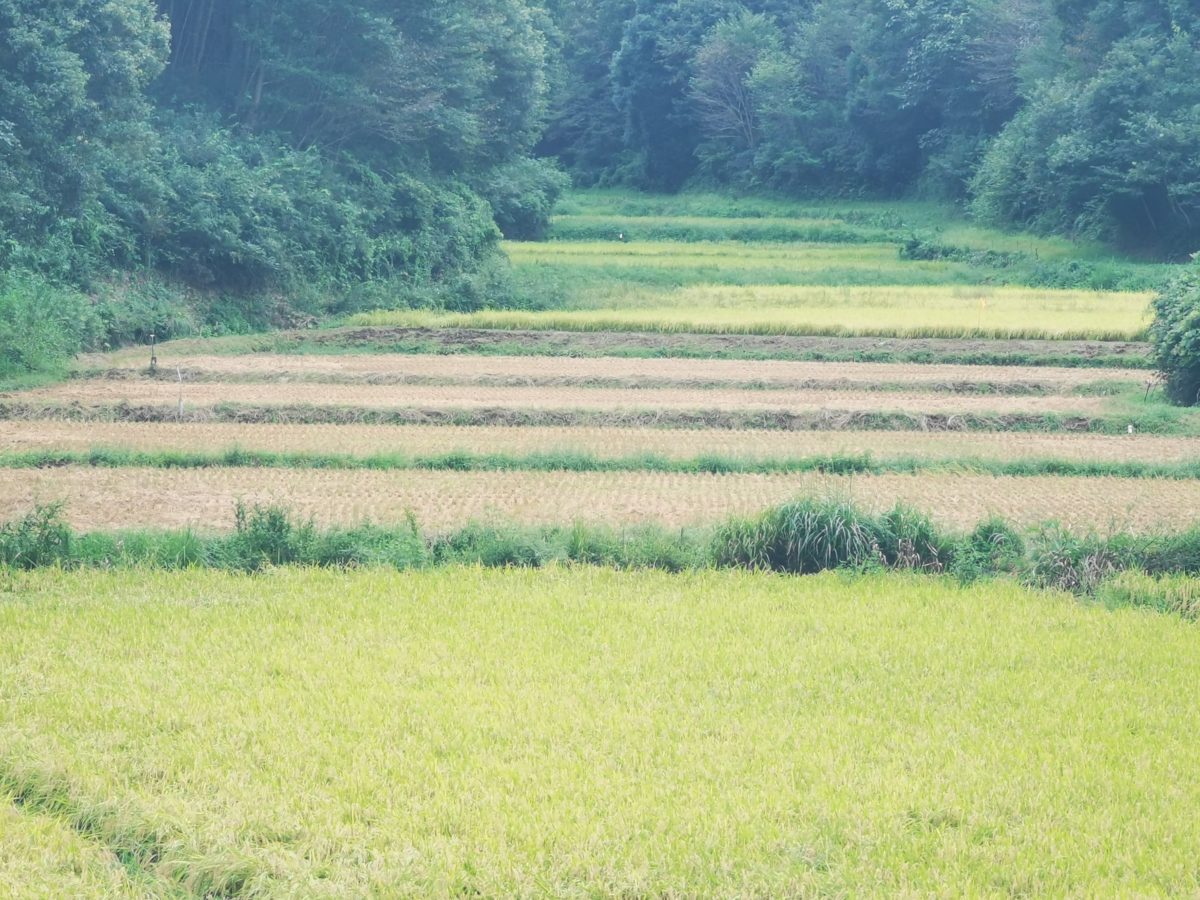 How to view and manage potential sites in Google Maps
I was going to write about how to preview collection spots in Google Maps and how to manage candidate sites in Google Maps, but it would be too long, so I'll write about it in another article.
We are unable tPlease note that I cannot answer questions like "Please tell me the habitat of Giant Water Bug" from strangers. I can't answer questions like that. We'll get to know each other better and then we'll go collecting and observing together.